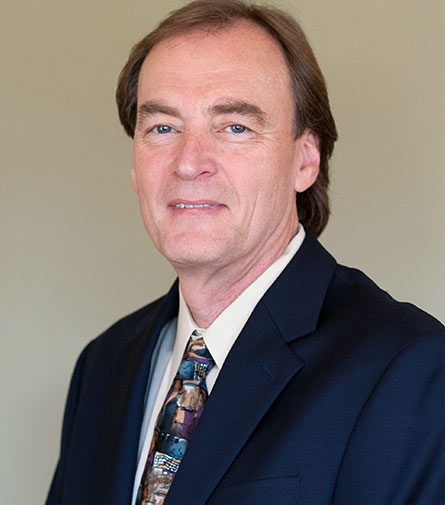 John Petze, co-founder and COO
With technology permeating our houses, workplaces, and society, nowadays, data hold sway over every aspect of our lives. We produce a staggering 2.5 quintillion bytes of data every single day, which is equivalent to 10 million Blu-ray discs of data. This tremendous amount of data is then used to make our lives more engaging and meaningful. Today, driven by this desire to capture data and make useful decisions, even buildings are not left behind from becoming smarter and more efficient. The enormous amount of sensor and equipment data produced by each building presents its own unique opportunities for owners or operators to optimize operating expenses, ensure the comfort of tenants, and meet sustainability goals.
A truly intelligent building measures, interprets and responds to its own behavior. "But achieving that level of intelligence doesn't come that easy," according to John Petze, co-founder and COO at SkyFoundry. There are manifold of devices in a building, from the old-fashioned electric meters to cutting-edge IoT devices, and therefore, "It remains a challenge to connect all these diverse devices which are based on different technologies and communicate in very different ways."
Notably, this is the challenge that Petze's company, SkyFoundry, resolves for its clients. SkyFoundry has been at the helm of building analytics for more than a decade now. The company's software solutions empower its users to derive value from their investments in smart systems. To that end, the company's building analytics platform, SkySpark
®
, has been deployed in over one billion square feet of facilities worldwide, across many different industry verticals.
All these facilities are unique when it comes to information technology (IT) requirements. However, SkySpark
®
has been implemented across them quite successfully. "Beyond the technology the secret sauce is our partner-network that has deep industry-specific knowledge," states Petze. SkyFoundry has an authorized partner network of around 140 partner organizations, including major original equipment manufacturers (OEMs), systems integrators, specialty engineering firms, and value-added distributors, who are proficient in different verticals.
They implement, distribute, or resell SkySpark
®
in their specific industries. From indoor farms, fast-food chains, and retail sites to institutional and military facilities, universities, and healthcare providers, SkySpark® has been implemented in excess of 15,000 buildings so far.
SkySpark®: Collect, Organize, Analyze, Visualize, Report
At the core of SkySpark's
®
competencies is the use of cutting-edge and technologies across all its data mining stages, including data collection, storage, organization, analysis, and visualization. The foundation of the platform is SkyFoundry's high-performance Folio database for storage, which is specially designed for Internet of Things (IoT) data. Folio combines the speed of an industrial historian with the modeling capabilities of document and graph databases to store and organize heterogeneous data and create unified models. SkySpark then uses its advanced data compression to store billions of time-series records in a fraction of the disk space used by conventional database technologies, thereby drastically reducing server hardware requirements and costs. Moreover, SkySpark is also a native Haystack Server, and the full system can be accessed via the open source Project Haystack REST API to integrate data from, and with, third-party applications.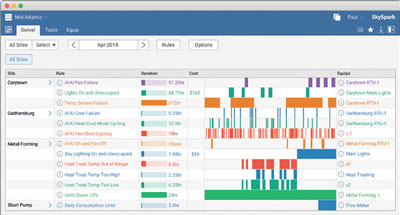 What's more? SkySpark
®
includes over 500 built-in analytic functions to help its clients to derive value from the colossal amount of data collected from smart and connected devices. It also has a complete suite of apps that automatically visualize operational data, and highlight patterns, correlations, and KPIs, all without requiring custom development of graphical screens. For applications that do require customized views and reports, SkySpark
®
combines the efficiency of its built-in apps with the ability of its view builder feature, which provides an extensive library of display widgets and a point-and-click tool to create customized visualizations, displays, and apps, and turn data into reports.
Besides being highly programmable and adaptable to different types of applications and verticals, SkySpark
®
also allows maximum flexibility in its deployment. It can be deployed on-premise, in the cloud, at the edge, or even as a desktop tool.
Over the years, SkySpark
®
has also been hugely successful as an energy management and information system (EMIS, enabling many enterprises to cut hundreds of thousands of dollars in operating costs annually. To cite an example, Sprint Corporation, an American telecommunications company, decided to invest in EMIS at its Sprint World Headquarters Campus in Kansas. Consequently, Sprint Corporation worked with its fault detection and diagnostics (FDD) service provider, CBRE|ESI, to optimize its HVAC systems. CBRE|ESI implemented SkySpark
®
software. The solution uncovered many performance issues that were significantly increasing maintenance costs. Investing in SkySpark
®
paid off for Sprint Corporation as they were able to cut annual energy waste by over $400,000. Later, Sprint Corporation was also nationally recognized by the U.S. Department of Energy's Better Buildings program for its exemplary work in saving energy.
Helping companies achieve such success, SkyFoundry is even more determined now to continue revolutionizing the building analytics space further by enhancing the features and functionalities of its SkySpark
®
platform. On that front, SkyFoundry releases new software builds multiple times per year, accommodating enhanced features based on inputs from their clients and worldwide partner network. Moving ahead SkyFoundry is looking at different partnership opportunities to expand its extensive partner base. "That's how our business really builds and grows. We grow with the growth of our partner channel and reach the market segments they serve," concludes Petze.